What the general public normally calls "billboards" the advertising world calls "outdoor," short for "outdoor advertising."
There is no medium where brevity counts more than in outdoor. Speeding along at 60 or 70 mph, thinking about this or that, there's not much time or attention for outdoor message. Usually a maximum of seven words is as much as anyone can take in.I usually shoot for 4 or 5 words if possible. Outdoor, in particular, has to follow the rule of clear, brief and simple—CBS. Or maybe it's "cut the BS."
Bestcare
Bestcare is a doctor's office here in the Dallas area. They were losing some of their most profitable busines to walk-in clinics like CareNow and PrimaCare. Their old name was "St Paul Family Doctor." They'd been in business for 20 years but had virtually zero marketing to help them. I came up with a new name, logo and a lot more. And flanked it with an outdoor campaign to bring in new business targetting the profitable cold-flu people who don't want to make an appointment. Of course the campaign worked and is still working today.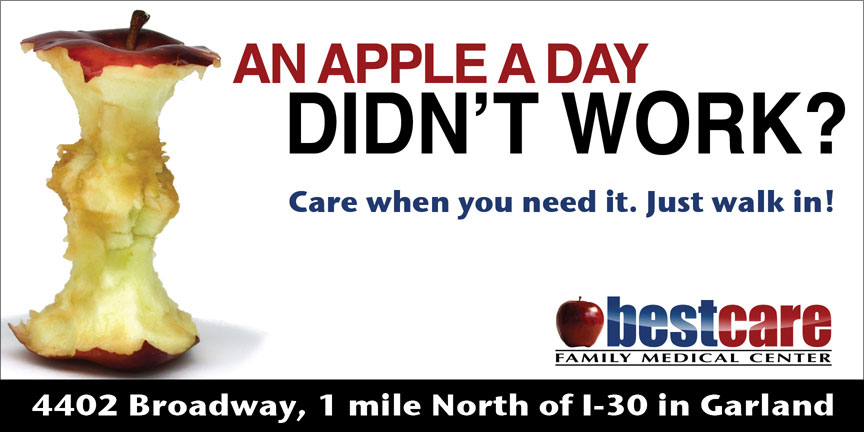 Home Depot
In the campaign below for Home Depot, I managed to keep it to only four words. That works and the Home Depot campaign is strong. So outdoor, in particular, has to follow the rule of clear, brief and simple (CBS).
But CBS is still not enough. Terriffic outdoor must also be noticed. One of the best ways to do that is to combine something familiar with something unexpected. The result is always surprising. In this case I cross-bread several familiar self improvement messages with products from Home Depot. The result definitely grabs attention.
Outdoor also must communicate a reason to buy. In advertising, we're selling the benefit not the product or service. Sell the benefit, and you will sell the product. The best outdoor does all this and invites the consumer to try the product or service. And of course in the Home Depot ads this was accomplished with style.



---